INDUSTRY LEADERS
Significant large companies in this market are:
Whole Foods Market, Inc. (NASDAQ: WFMI) is the retailer with 275 stores specializing in natural health foods, organic raw foods, organic health foods and other natural products. They started operations in 1980 in Austin, Texas. Food market research states that this market leader has grown to revenues of $7.9 billion in 2008. From 2001 to 2006 Whole Foods Market, Inc. stock price increased roughly 800% from $10 to $80.
The Hain Celestial Group (NASDAQ: HAIN), is a manufacturer and distributor of natural health foods, organic health food, personal care products in North America and Europe. The company markets the popular Celestial Seasonings® line of teas and had revenues of $1.1 billion in 2008. From 1997 to 2001 Hain Celestial Group stock price increased over 800% from under $5 to $40, according to food market research.
United Natural Foods, Inc. (NASDAQ:UNFI) is a distributor of specialty, organic and natural health foods and other related products including nutritional supplements, personal care items and organic raw food and produce in the United States with revenues of $3.45 billion in 2008. Food market research shows that from 2001 to 2007, the United Natural Foods, Inc. stock price increased by an estimated 750% from $5 to $35.
Green Mountain Coffee Roasters (NASDAQ:GMCR) is a specialty coffee manufacturer and distributor with 2008 sales of $803 million. Advocating the concept of providing natural health foods for healthy living, the company markets the Green Mountain Coffee® and Tully's Coffee® brands and employs a combined total of over 1,400 employees. From November 2008 to October 2009 Green Mountain Coffee Roasters stock price increased by about 400% from under $20 to $79.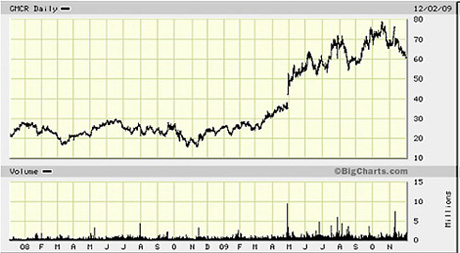 Additionally, because of the boom in organic health food production, investors are being rewarded by the acquisition of natural products companies by larger companies. In 2002, BC Natural Foods purchased Coleman Natural Products, with $150 million in annual sales for an undisclosed amount. In 2006, 84% of Tom's of Maine, pioneer of natural personal care products was purchased by Colgate-Palmolive for $100 million.
*All data presented here is based on solid food market research.